Xiaotangshan town, Changping district
This landfill is right near a river bank, where waters have been polluted with the decomposing toxins from the waste. Dairy cows from a nearby farm come to the river daily to drink, and root among the trash for things to eatshan town, Changping district.
---
Over 200 sheep engorge themselves on mouthfuls of trash, heightening their risk of disease and infection. Toxic smoke permeates the air from small fires that burn throughout the Tuanli landfill site.
---
National environmental protection industrial park
This park is still under construction but already completely covered with plastic bags
---
Changxindian, Fengtai district
A shanty town for migrant workers built on a landfill. At its height, the site attracted more than 2,000 migrant workers from the most populous provinces including Sichuan, Henan and Anhui
---
Beijing economic-technological development, eastern area
A considerable amount of construction waste has been left over from large-scale development projects. Pictured here is quicklime waste from the construction; the caustic material has seeped deep into the surrounding sources of ground water
---
Huangchun town, Daxing district
A waste transfer station that looks more like a rubbish dump. No measures were taken to prevent the decomposing trash (along with the waste water from a nearby plant) from seeping into and polluting the groundwater. There are greenhouses all around the area growing vegetables and the polluted groundwater is in turn used to irrigate these plants
---
Changxindian, Fengtai district. Children playing on the site.
The Lianzhou international photography festival awards the prize for outstanding artist of the year to photographers producing original work. The 2008 winner was On The Road, a project by Luo Dan
---
Guangdong Guiyu town rivers, reservoirs have been contaminated, the villagers had to be serious pollution of reservoirs in the washing
---
Anhui Ma'anshan Yangtze river shore has many small iron factory, plastics processing plant, a large number of sewage into the Yangtze River discharge
---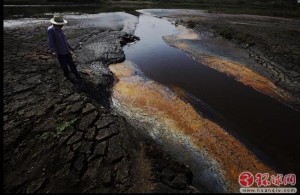 Cihu industrial zone, Anhui Province, built an underground piping, sewage discharge from here every day, the wastewater of the Yangtze River is sometimes black, sometimes white, sometimes dark red, sometimes yellow, different chemical emissions from sewage colors different